Akanea WMS:
The expert software that optimizes warehouse flows for logistics professionnals
For Logistics service providers, carriers, forwarders, distributors, traders, e-Merchant, manufacturers…
Akanea WMS (Warehouse Management System) is a software package designated and deployed by our warehouse management experts.
It is a proven solution used by logistics' professionals for over 30 years.
Every day, we work with over a hundred companies, helping them to meet the challenges faced by logistics specialists: meeting deadlines, optimisation of flows and stocks, reconciliation of physical flows and information flows, cross-channel and multi-channel, rise of e-commerce…
These businesses use Akanea WMS to manage over 500,000 m2 of storage area and more than a million indents lines every month.
Choose Akanea WMS,
for a fully proven, agile and collaborative software solution.
A flexible, multi-function WMS
Whether you are a logistics, transport, trading or distribution professional or a manufacturer managing your own warehouses, Akanea WMS is an easy-to-use program compatible with other IT systems.
Its flexibility provides you with support throughout your development: new markets, new tenders, increased storage areas, different types of merchandise, greater use of delayed differentiation operations (kitting, co-packing…).
When in conventional entry mode and/or mobile mode (radio frequency terminal), it can address all levels of the company: management, operations, trade…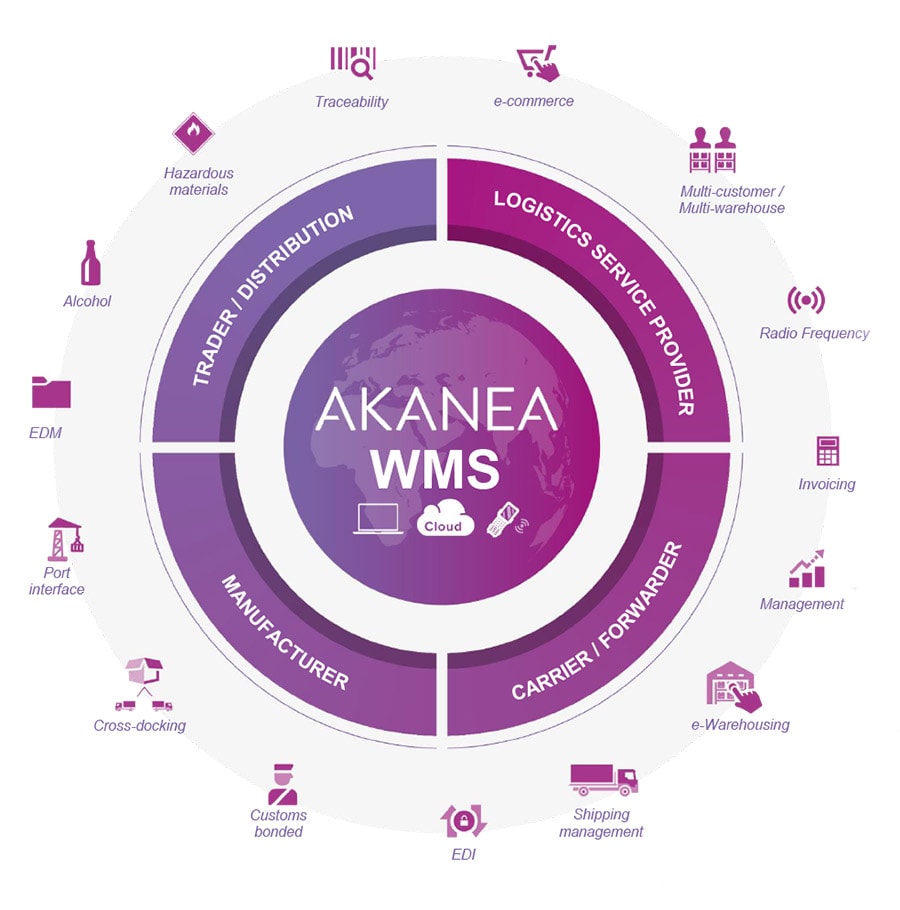 Added value modules
boosting your competitive edge